There are many websites to buy RDP with BitCoin but among them AMinServe.com has unique features. Buying RDP with bitcoin from aminserve.com is easy, fast, and safe. We are an established company since 2009 and served thousand customers From Asia, Africa, Europe, America and Australia. We accept BitCoin, PayPal, WebMoney and Perfect Money for RDP. You can change the payment method any time you want! You can order the RDP for 1 month, 3 months, 6 months, 1 year, 2 years or 3 years.

Advantages of buying RDP with bitcoin from AMinServe.com:
Safety: We are know among RDP users. We have consent rules, experienced staff, and fresh powerful servers.
Secure: Our client area is secured against hacks and attacks. You can be 100% sure that no one can access your details. Also we secure our servers to their utmost levels, so no one will be able to access your RDP without your permission.
Fast: We have many Bitcoin RDP plans which are based on latest technology and newest SSD drives. SSD drive and SSD RDP are much faster than normal RDP that other providers sell. If you use SSD RDP once, you will never use normal RDPs again.
100% reliable: We maintain our network and hardware with the latest updates and make sure that you get the fastest speed and quality 24 hours a day, 7 days a week.
Full featured control panel: With every RDP we will included a complete control panel in which you can work with like a real computer. Even if you lose the internet connection, you can still work with your RDP using the VNC console. You also have the full control over the power.
Many Countries: We have RDP from USA, Canada, United Kingdom, France, Germany, Switzerland, Australia, and Netherlands. We an provide RDP from other countries too, contact us.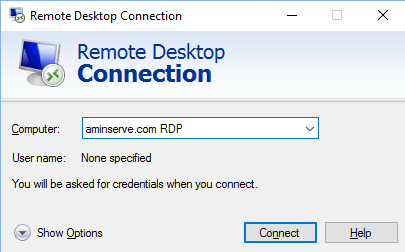 You can buy RDP with BitCoin (BTC) at AMinServe.com. We provide high quality RDP for Windows, MAC, IOS and Android.